Clinical Pilates
Clinical Pilates is a proven method developed by Physiotherapists for injury rehabilitation and general fitness. It works by re-establishing correct muscle balance by activating and strengthening the core stabilizing muscles of the spinal, abdominal and pelvic floor muscles.
The benefits of Pilates include: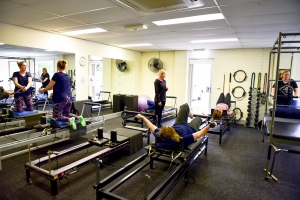 Injury rehabilitation and prevention
General toning and strengthening and
Improved posture and flexibility
Our programs include a variety of techniques using a combination of methods such as:
Pilate's reformers
Trapeze table
Floor routines
Therabands and
Physio balls, just to name a few.
All Pilate's classes are designed and facilitated by highly qualified physiotherapists. We closely monitor your technique to ensure that all exercises are done correctly, consistently and safely to enable you to maximize each and every session.
Once a personalized program has been designed for you, you have many options to continue private or semi private sessions, group classes or join our rehabilitation gymnasium complete with fully equipped Pilate's facilities.
EPSI specialize in neck and back pain, postural problems, pregnancy and post natal Pilates in addition to athletic and sport specific conditioning.
Call our clinic on 9439 3290 or view online for timetable/class times.
• Rebates may be claimed on private health insurance.